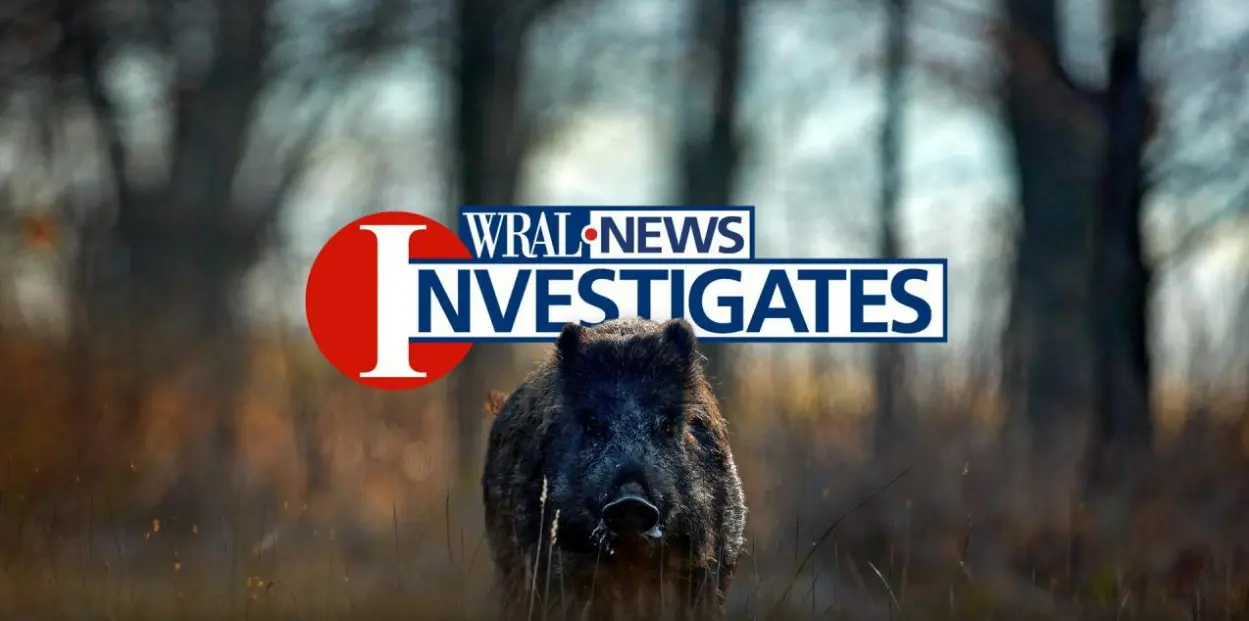 Flooding, hurricanes, early frosts and supply and demand issues have always been a concern for North Carolina's farmers. But, now there's a new and growing threat: Feral hogs.
The United States Department of Agriculture estimates wild hogs cause $1.5 billion in damages every year across the country. In North Carolina, they do tens of millions of dollars in damage, and that figure keeps climbing. In response, the state formed a Feral Swine Task Force to track and trap the destructive animals.
But as WRAL Investigates found, that's no easy task.
"You've got to gain their trust," said animal trapper David Moore. .
For days, he crafts this trap in Anson County, southwest of the Triangle. It's baited with corn, raspberry jelly and molasses to condition his prey. Moore, who markets himself as the Carolina Hog Stopper, then waits and watches thanks to a camera he installs near the trap.
"And once they come through, the net drops," he said.
When the plan works, Moore lures in dozens of feral swine roaming the North Carolina countryside.
"To be able to catch these hogs, you've kind of got to be on top of your game," Moore said. "You can't make any mistakes."
Moore says the hogs are quick to learn about traps, especially the large metal ones with slamming doors. That's why he uses a different, net-based product that he feels works better. Because of disease and destruction, the hogs must be put down when they're caught. Moore says he'll also give the hogs away for people to eat.
But hunting reports from across the state show the feral swine issue is not just a rural problem. Johnston County, right next to Wake County, has one of the highest wild pig harvest rates in the state.
John Hendrix, a farmer in Sampson County, lost about five acres to the pillaging swine, some that can grow to 300 pounds. Packs of pigs, called sounders, root through acres of corn and hay fields, destroying profitable crops. Hendrix says he never thought in his wildest dreams he'd be battling wild hogs as a farmer.
"No, gosh, it was the furthest thing from our mind," he said.
Hendrix took matters into his own hands and in one night killed 17 hogs. Now, a government funded pilot project is helping farmers like Hendrix by providing traps.
"We always want to trap, because you can remove more hogs with a trap than when you're out shooting," said Randy Pulley, a wildlife specialist with the USDA.
He monitors a bank of live cameras overseeing elaborate steel traps with guillotine doors.
"We've probably removed anywhere from 100 to 150 from [Sampson County] in the last two years," Pulley said.
For decades, the USDA has tracked the feral swine population nationwide. In 1982, hogs were documented in about a dozen counties in our state. Now, that number's flipped. Just 17 out of North Carolina's 100 counties have no reported hog sightings.
The concern is not limited to damage. The hogs also carry diseases that could infest livestock, domestic pets, and on rare occasions, people.
"Unfortunately, this is not an easy problem to solve because feral swine are very smart, they reproduce rapidly and they do create a lot of damage," according to Falyn Owens, an extension biologist with the North Carolina Wildlife Resource Commission. She's part of the task force aimed at corralling the pig problem.
Wild hogs in North Carolina date back to 16th century, when Spanish conquistadors introduced them as a food source. Then, sport hunters brought over Eurasion boars as commercial hog farming grew.
"What we see in North Carolina is this mix of old domestic animals, mixed with the Eurasion wild boar, mixed with new escapees," Owens said.
While hunting feral swine is legal year round because they're considered a nuisance, it's also part of the problem, Pulley said.
"There are hogs being moved for hunting and recreational purposes, but these people don't realize the damage they're causing," he said.
Despite stepped up efforts to eradicate feral swine, Pulley said the battle seems never-ending.
"You think they're gone and then you'll have a separate group show up out of nowhere," he said.